Do you do custom range hood options?
Yes. Custom designs are available on all CopperSmith products. Please send us a concept drawing, and we will provide a quote.
What is the order process for a custom CopperSmith range hood?
You can and are encouraged to order your range hood directly on the website. After purchase, we will provide a detailed CAD drawing for your approval. If you order a custom quote range hood, you'll get a to-scale 3D rendering at the time of sale.
I can't build my range hood on the website; how do I get a quote?
Please submit our Custom Quote Request form to get started.
I Found A Range Hood Design I Like, Can You Make It?
In most cases, yes, we can accommodate nearly any custom metal range hood design.
Please email us any information, specifications, and inspiration photos, and our brand specialists will review and get back to you with a quote or a request for additional information.
How Do I Get A Picture Of The Range Hood Before I Order?
Our website allows you to customize your range hood and visualize it immediately, in real-time.
If you would like we can provide a 3D rendering before you place your order. Once you order your range hood, we may provide you with a CAD drawing of your custom range hood for your approval before being put into production.
How do I choose a range hood model?
We have a few different range hood shapes that go with every kitchen remodel, but it will depend on your personal preference.
What's the most popular range hood?
Range hood designs are mainly a personal preference and design taste.
I Want To See The Scale And Proportions Of My Custom Range Hood; How Do I Do That?
If you purchase directly off the website, you'll receive a custom, to-scale CAD drawing of your range hood within 2-3 business days for your approval.
For custom quotes, all range hood renderings will be to scale.
Why Can't I Get A Particular Texture In This Finish?
Some of our finishes are only available in certain textures, due to the natural composition of the metal.
How Do I Feel Or Touch The Finish?
We understand your needs for both tangible and visual design tools and recommend ordering metal finish samples. Please order samples to ensure you get the exact color and texture you are looking for.
Which Finishes Are Sealed And Which Are Not Sealed?
All of our Natural and Artisan finishes are living, unsealed finishes.
Can The Range Hood Apron Be A Different Finish Than The Body/Flue?
The apron can be a different patina and texture, as long as it's the same type of metal as the body of the hood, and aligns within the same standard or premium finishes.
Do You Offer Range Hoods In A White Finish?
We currently do not offer a white finish color option for our range hoods.
Will My Range Hood Change Colors (Patinate) Over Time?
Any of our unsealed finishes will naturally shift in color over time. The speed at which this will happen and the change in color depends on the metal and what it is exposed to.
What are the range hood's inside dimensions?
The inside dimensions depend on the rest of the exterior dimensions of the range hood. Refer to your CAD drawing.
How much larger will my range hood depth need to be to fit my insert fan?
Generally the range hood depth will need to be 4" bigger for any range hood with chamfered corners and 2" bigger than standard 90-degree corners.
Can You Design A Range Hood To Fit My Insert Fan?
Yes, please send us the make, model number, and specification sheet, and we will custom design the range hood to fit your ventilation system.
We also offer premium insert fans made in the USA, which have gone through extensive testing to make them some of the most reliable and quiet units out there! They are designed to fit all of our Range Hood styles, sizes, and designs without additional modification.
What Does A Range Hood With An Insert Fan Look Like Underneath?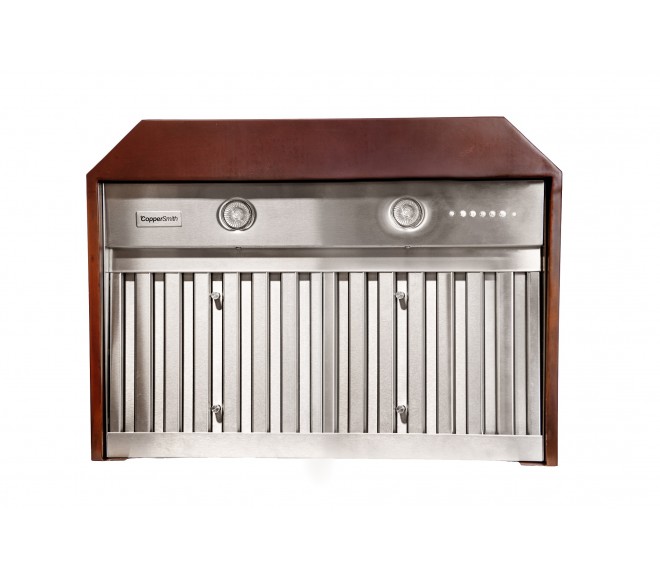 Will the top of the range hood be open?
Yes, by default, the top of the range hood will be open. We can close the top of the range hood for an additional fee.
Will the back of the range hood be open?
Yes, by default, the back of the range hood will be open. We can close the back of the range hood for an additional fee.
What depth range hood do I need?
The depth of your hood should cover the back burners and at least half of the front burners, though full coverage is best. The standard depth is 22" - 23". Professional grade is 24" - 26".
How tall should my range hood be?
How tall your range hood needs to be will depend on where you will have the top of your range hood end, at either the ceiling or lower on the wall.
How Wide Should My Wall Mount Range Hood Be?
The range hood width should be the same size as the cooktop or up to 3 inches larger on each side. If your stove is 30″ wide, your hood can be anywhere from 30″-36″ wide.
What Is the Standard Size Width For A Set Cooktop Size For An Island Hood?
We recommend a minimum 6" wider than your cooking surface to provide the best capture area.
What are the standard and recommended range hood widths?
The standard width would be the same as the stovetop.
Can I make my range hood less than 30" wide?
To ensure your hood functions at optimal capacity, we do not recommend sizing your hood to a width that is less than the width of your range.
Can the range hood's top width be customized
Yes.
Does the range hood's overall width dimension include straps, rivets, and trim?
To determine the total overall width for your range hood, please reference the 2D CAD drawing details.
Should I make the range hood width bigger, and if so, how much bigger?
We recommend up to 3" larger on either side of the range hood to create a larger capture area.
When it comes to range hood width, how does the top compare with the bottom?
Our standard dimensions are 16" smaller at the top than the bottom.
Can the range hood's apron height be customized
Yes.
Can I customize the curvature of the range hood?
Yes. We can customize the top and bottom dimensions to achieve the curvature you like, but standard sizes are preferred based on tried and accurate feedback.
Will there be a seam on a 145-inch range hood?
Yes.
What's the tallest range hood you can make?
CopperSmith can make any dimension for your range hood height, but customizations will depend on finishes and whether your range hood will have straps.
How High Above The Cooktop Should My Range Hood Be?
You will want to have the range hood between 30" and 36" above the cooktop. For example, if you have a 9-foot ceiling, your range hood height will be between 36" and 42" depending on where you would like the range hood over your cooktop.
Check out our range hood buyers guide for more helpful information.
Can you make a metal shell to fit over my existing range hood?
In most cases, no, we can't make a range hood to accommodate and fit over an existing range hood design. Please reach out to our team of dedicated brand specialists for further assistance.
Do I put my range hood to the ceiling?
In most cases, customers will go all the way to the ceiling, but this will depend on what works best for your project. It's also common to have the range hood freestanding - especially on tall ceilings.
Where are the holes on the back to drill through?
There are pre-drilled mounting holes on the back of the range hood on the 2" trim. If needed, you can also create holes yourself to drill into studs.
How much do your range hoods weigh?
About 50-150 lbs. The approximate weight will be noted on your CAD drawing.
What Materials Are Your Copper Range Hoods Made Of?
Depending on which copper patina finish you choose, your handcrafted CopperSmith Copper Range Hood is made with 99.8% Virgin Cold Rolled Copper or 98.7% Recycled Copper.
What gauge are your range hoods?
The majority of our copper range hoods are 16 gauge, and copper sinks are available in 14 or 16 gauge. Always refer to the specific product page for the most accurate information.